Chef Ana knows the restaurant business inside and out.  Using her extensive knowledge, she has not only trained chefs and culinary professionals from places as far away as England, Kenya, South Korea, India, and Germany but has created recipes, complete menus, and delivered full restaurant concepts to clients as a consultant with the added advantage of using her abilities as a culinary personality.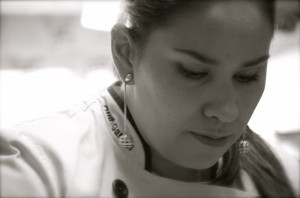 Beginning with her close relationship with her great-grandmother, a butcher revered and Fonda owner, Chef Ana has always had a desire to be a part of.  She worked in high school as an intern at the world-renown Las Mañanitas and desired to attend chef school in Paris, France, but was persuaded by her father to pursue a career in business.  Even after Chef Ana graduated from college with a B.A. in Business and a job as a PR specialist at a division of Cemex.  She still wanted to cook.  That changed when she met her future husband, Robb Anderson, who saw in her a unique gift that combined her vast knowledge of Mexican cuisine with her talent for teaching and communicating.
Chef Ana opened her first restaurant, the very popular Reposado in 2001 and was the executive chef and owner for 9 years serving as many as 200 seatings per night in the restaurant and bar and organizing events of up to 500 people.  In 2007 she also initiated an ecologically friendly café and artist studio called Cafe5/Estudio5 made primarily of recycled materials just outside of Cuernavaca.
Apart from training culinary professionals in the secrets of Mexican cuisine, Chef Ana has also collaborated to create new restaurant concepts as she did with La Salsa/Baja Fresh and help create the menu and concept for the successful Mexican restaurant, Fonda NBO in Nairobi, Kenya.  Chef Ana was responsible for everything from the menu, recipes and training of personal to concept, environment and design collaborating with corporate representatives to create new upscale concept.
Chef Ana is delighted to work on every detail from restaurant concepts to lending her star power to an opening.  As she says, "We are taking real Mexican cuisine to the world, one plate at a time."