Chef Ana has extensive experience in television, radio, print and web media.  She starred in a 3-part mini-series for Disney Digital called "Babble Eats: Around the World" and has appeared on PBS, The Food Network, Univision, Telemundo and ABC.  As well, Chef Ana has been featured in Bon Appetit, Conde Nast Traveler, Cooking Light, Better Homes and Gardens, Intermezzo, Latina, and Newsweek, among others.  Chef Ana has made regular appearances on large regional talk and morning shows such as KTLA's Morning News at Nine, WGN's Midday News, Spencer Christian's "The View from the Bay," Univision and Telemundo news shows, and is starting to expand her reach into national television segments.  Additionally Chef Ana has worked with Mark Wolper of the Wolper Organization/Warner Brothers on the development of her own television series for the US market.
Chef Ana has ample experience working with companies and public relation firms to tailor bilingual and bicultural campaigns to the Hispanic markets as well as representing Hispanic products trying to reach a broader U.S. market.   Whether it is a Mexican or Hispanic product line seeking a broader following in the U.S. or internationally, companies seeking exposure for products in Mexico or companies trying to reach the Hispanic and Mexican-American market in the U.S., Chef Ana can help culturally sculpt an authentic message to reach the target audience.
Chef Ana has worked in a collaborative fashion on marketing and public relations campaigns with companies as well as public relations firms to meet their client's needs.  She has participated in social media campaigns with recipes and suggestions, television appearances, cooking class events, corporate events such as annual dinners, convention appearances and demos, mobile site campaigns, and recipe inserts for product packaging.
The following is an example of the campaigns, companies, and products that Chef Ana has worked with in the past and/or continues to represent: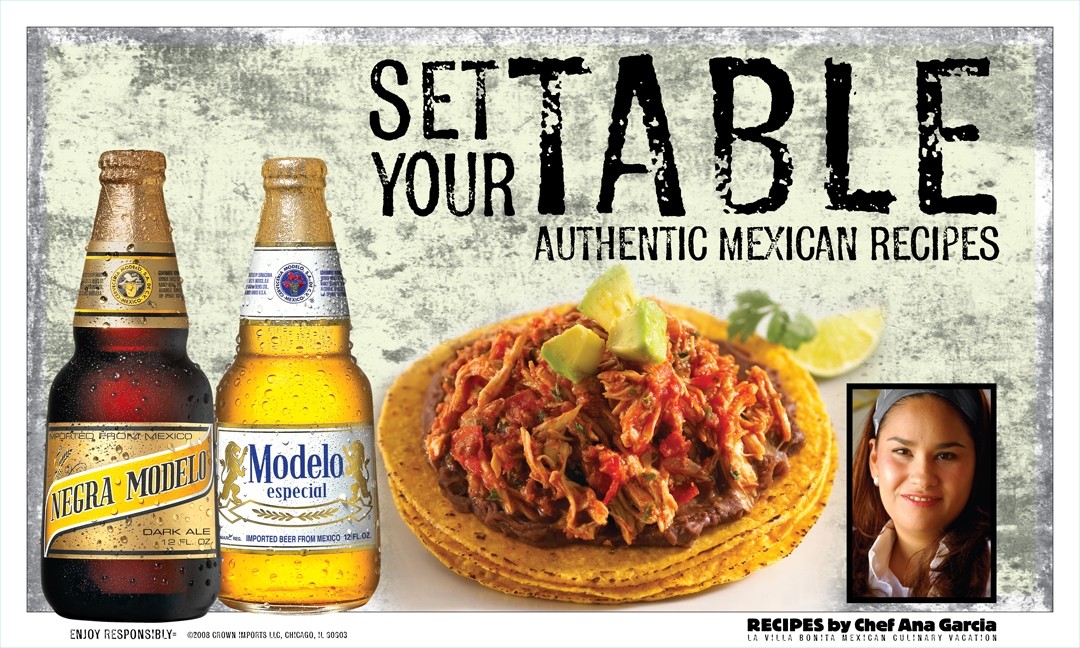 Crown Imports (Corona, Negra Modelo, Modelo Especial), national in-store campaign "Set Your Table" featuring Chef Ana, her recipes, and giveaway of La Villa Bonita packages, continuing regular appearances on talk and morning television shows featuring Crown brands, appearance and demo at the National Restaurant Association Conference featuring  Crown products.
Sara Lee Breads, Hillshire Farm Deli Select, Jimmy Dean,  and Ballpark Franks, bilingual campaign entitled "Mas Opciones, Vidas Mas Saludables" or "More Options, Healthier Lives" with roll-out of new healthier product line, satellite media tour, national radio segments, in-studio television segments, mobile website with Chef Ana's healthy lifestyle tips and recipes, print interviews, demonstration of the use of products at national dieticians association conference.
California Avocado Association, Herdez Brand Salsas and Products, Mexican Tourism Promotion Board, Jose Cuervo Tequila, Chef Ana participated in a satellite media tour for Cinco de Mayo 2011 with in-studio segment on WGN.
IMUSA Cookware. Chef Ana contributed Traditional and Northern Mexico recipes for their website, lent her image for use on their website and with their products, contributed recipes to product packaging inserts, and appeared on television morning shows in LA, San Francisco and San Diego featuring products.
Villa Group Resorts. Cabo San Lucas and Puerto Vallarta, researched traditional dishes for each location and produced a set of cooking classes designed to resurrect the indigenous local cuisines in these touristic locations, participated in web promotions, did demos and hands-on cooking classes on site with guests in Puerto Vallarta and Cabo San Lucas locations.
La Salsa and Baja Fresh. Recipe development, demonstration, and appearance at National Franchise Expo.  Development of new restaurant franchise featuring Chef Ana and her recipes.